Unified Control Marks (UCM)
Unified Control Mark is a document with a certain protection degree, intended for marking of goods.
Unified Control Mark (example)
(size 18×18 mm)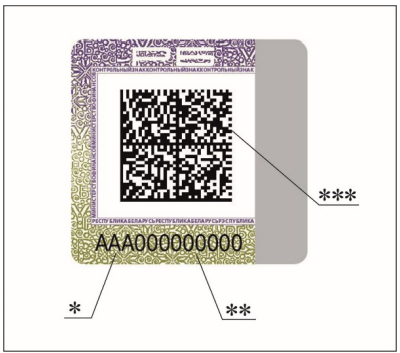 * Series (variable data)
** Number (variable data)
*** Unique sequence of symbols in machine-readable form represented as a 2D DataMatrix barcode. It contains variable data, including the unified control mark series and number
How to get UCM
Goods to be marked with UCM
UCM distribution offices
UCM price
Goods marking with UCM
Documents
Return
For individual entrepreneurs
How to get UCM
While submitting a registration application, read the Terms and Conditions of Use and the rules and procedures of the state information system for marking goods with unified control marks or identification means.
Sign up for SIS "Electronic Mark" on datamark.by and get access to a personal account.
Call/email to/visit a distribution office to order unified control marks.
Get an invoice by fax/email/hand.
Pay the invoice to the specified account by wire or cash deposit at a bank to be further credited to the marking system operator account.
Within 5 business days after the payment visit the same distribution office of Belblankavyd Printing House the RFID labels have been ordered at, to get the unified control marks.
Unified control marks are distributed under hard-copy waybills.
Goods to be marked with UCM
UCM distribution offices
UCM price
Goods marking with UCM
Documents
Return
For individual entrepreneurs
Test your scanner to be used for the personal account