Furskin articles must be labelled with control (identification) marks featuring RFID tags since March 20, 2016, and with protected physical media of identification means, since July 8, 2021.
A protected physical media featuring means of identification (RFID label) is a control (identification) mark intended for labelling of articles of apparel, clothing accessories and other furskin articles (EAEU HS subitems 4303 10 901 0 to 4303 10 906 0, 4303 10 908 0).
RFID label acquiring by Belarusian manufacturers and/or importers from the countries other than the EAEU member states
Sign up for GS1 automatic identification system in Belarus (registration body – GS1 Belarus).
See the guidelines in "Services" section on GS1 Belarus website. Registered users (businesses) are provided with international ID numbers GCP and GLN needed to register goods, to initialise RFID labels, and to exchange digital data including electronic waybills.
Enter mandatory data into the product ePASS databank.
While submitting a registration application, read the Terms and Conditions of Use as well as Rules and Procedures of the state information system for marking goods with unified control marks or identification means.

Sign up for the Automated Product Authentication System (AS "Control of Legality of Goods") on datamark.by and get access to a personal account (sign up and log in on Furskin Articles tab).
Call/email to/visit a RFID label distribution office to order RFID labels.
Get an invoice by fax/email/hand.
Pay the invoice to the specified account by wire or cash deposit at a bank to be further credited to the marking system operator account.
Within 5 business days after the payment visit the same RFID label distribution office the RFID labels have been ordered at, to get the RFID labels.
RFID labels are distributed under hard-copy waybills.
RFID label initialisation
Registering of RFID-labelled goods imported from the EAEU member states
Goods to be marked with RFID labels
RFID label distribution offices
RFID label price
Documents
Application methods
RFID label
For the information on control (identification) marks and RFID labels visit Information Inquiry tab on datamark.by and fill in the required fields: code, control (identification) mark series and number (without country prefix – BY) or RFID label number and series.
Belblankavyd Printing House provides and ensures:
Registering of Belarusian businesses in SIS "Electronic Mark"
Keeping of the goods catalogue (register of marked products)
Goods marking code generation
Communication and data exchange with national goods marking information systems of the EAEU member states
Recording of goods turnover stages according to the marked product group:

Introduction into turnover (production, import, leftovers labelling, etc.)
Transfer (change of ownership)
Withdrawal from the market (exporting (transborder trade), retail sales, discarding)

Issuing of protected physical media, means of identification on protected physical media, protection marks
Recording of circulation of marking codes, means of identification on protected physical media, protection marks (sale, return, transfer, discarding, etc.)
Other functions and services as provided for by regulations, system membership agreements, agreements with authorised bodies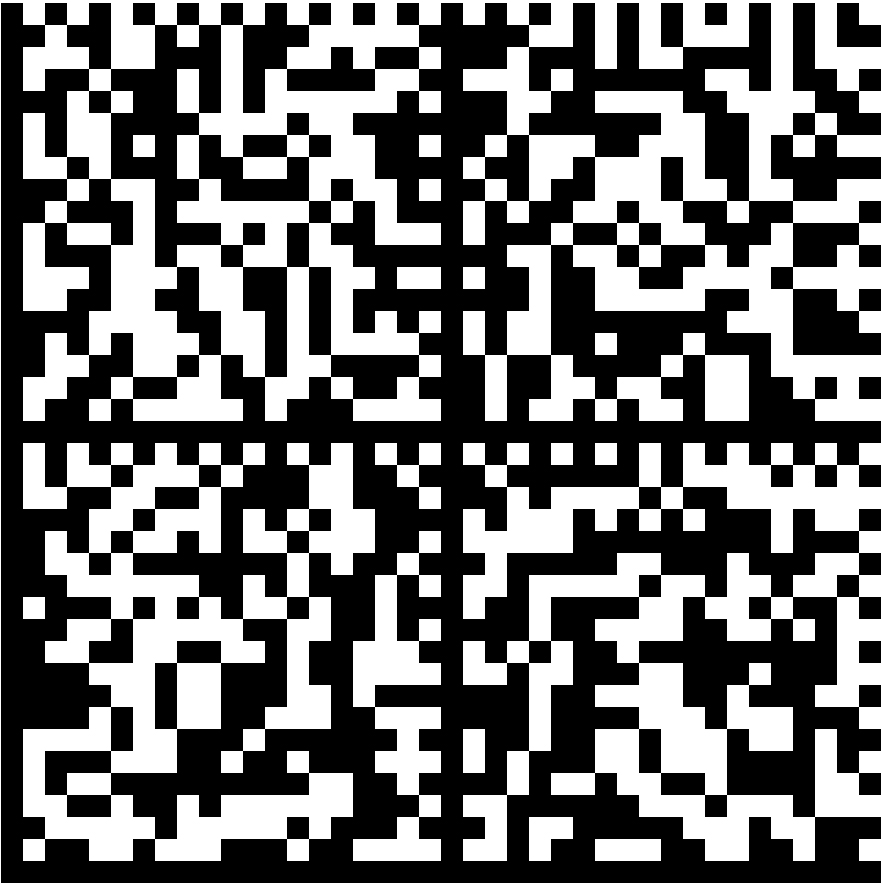 GS1 DataMatrix
The Data Matrix code consists of two parts: an ID code and a verification code (aka crypto-tail). Appearance of duplicated goods on the Belarusian market is prevented by marking code status change in SIS "Electronic Mark" upon the change of ownership of the marked goods
Test your scanner to be used for the personal account